Sweet Stella's placement is on medical hold as we learn more about an injury to her rear left leg. We hope you will follow Stella's story which we will update with details as they become available. If you would like to sponsor Stella (or any Sunshine dog) and would like to provide for the care of a particular dog's needs, please use the
Paypal
"single donation option" or mail a check to PO Box 247, Port Washington, NY 11050. We will note you as a sponsor on the dog's dedicated bio page.
We thank you in advance for your generous support!
Stella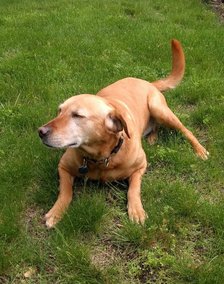 Update from Stella's Foster Dad - 5/23/17:
She is very happy now and loves to roll around on the grass outside. She is extremely friendly and always wants to please.

I think after anyone meets Stella, they will see how kind and gentle she is.

Stella shows no signs of aggression related to food. In fact, she looks to me for permission before eating. The only time she growls is when she hears another dog bark or initially sees another dog.

She is finding a nice balance between sleeping and coming around to say high to me and getting a little attention. In addition, she really listens well!
Stella's Story:
Back in 2014 this sweet girl was picked up as a stray in Baldwin County, AL. We knew she had to have been someone's dog for those 4-5 years of her life, but as often occurs, no one claimed this good-natured gal. Kylee was adopted by a family in the northeast and was renamed Stella. She has lived happily with them ever since. However, circumstances beyond our control have developed and this lovely lady is now in need of an adult-only retirement home.
Her family shares, "There is nothing Stella loves more than to be loved. She could snuggle all day if you didn't have anything to do! She has the sweetest disposition. Stella doesn't bark or chew. She is happy just to be near you on her bed. She is completely housebroken and can go a very long time without having to go potty. She has eyes that will melt your heart. Stella, like a lot of dogs, is afraid of thunder but if you hold her tight, she will be calm. She loves to go for walks with you, but doesn't require a lot of exercise. She can be lazy but in the cutest way! She LOVES riding in the car. She is fine with cats, but doesn't have a lot of interaction with other dogs. Honestly, Stella just wants to be loved and she will be happy in your home."
Stella is a stunning Golden/Lab mix who weighs about 69 lbs and is now estimated to be about 7-8 years old. Her coat is a deep, rich, golden color and has a feel that is plusher than that of a Lab's coat. She has a bushy Golden-style tail that wags and wags; she is happy to simply be part of her human's day!
Stella tested only trace positive for heartworms in 2014, but was treated to ensure she was parasite-free. This pretty lady is being fostered in CT and will be brought up-to-date on all her vaccinations. She is spayed and microchipped. All she needs it a place to lay her head (like on your lap!) and to know that she is loved and adored. She promises to give thanks every day to whomever adopts her! Please contact
Donna
if you are approved to adopt through SGRR. If not yet approved, please fill out an
application
.