Wendy

Follow along as Wendy continues to unfold in her forever home!

Wendy's story
Wendy is a beautiful and sweet, AKC registered, retired "breeder girl" who turned 5 in October. Wendy is shy, as are many breeder dogs, but craves human affection. She will give you quick licks as if to ask, "is this okay?" While she is tentative around adults, she crawled on her belly over to our vet's 10-year-old son and put her head on his lap, seeking his affection. Clayton was even able to get her up and walking on her leash. We think she would love to have a calm child in her life in a quieter home. She is uncomfortable getting in and out of car but this is not something this beautiful red-head has been familiar with. Leashed walks are also foreign to Wendy. But in time, she will learn that both the leash and the car mean FUN! Wendy is good with other dogs and was uninterested in the cat she met at the vet's office.

Life as a puppy mill breeder dog takes a heart-breaking toll on the dogs made to spend their entire lives in those situations. When taken out of this lifelong environment, puppy mill breeder dogs classically cower or flatten out on the ground like a pancake. They avoid eye contact, they freeze up, and they quiver when humans try to touch them. Evolvement varies, but it's usually slow going. Wendy is learning to associate humans with positive experiences in her foster home. As her confidence develops, she will be able to approach new situations and have a normal life. Her outlook will be positive rather than fearful.

So, what might Wendy's ideal home look like? Her foster tells us that to begin with, another dog in the home, to act as her mentor, is a must. Wendy is still shy and learning about life after being a breeder dog, and another dog can help show her the ropes. A calm home that will provide lots of consistency in Wendy's routine is another must. Wendy is still very fragile and even small changes set her back. Most of all Wendy needs an adopter who understands what Wendy has been through and who has lots of patience and no expectation of a quick adjustment.

Wendy weighs about 85 pounds and could stand to lose a couple of pounds. She is spayed, up-to-date on vaccinations, micro-chipped, and heartworm negative. She has a gorgeous red coat that has come in handy to keep her warm at her foster home in NJ!


Please check back from time to time to read about Wendy's progress below as told by her foster mom.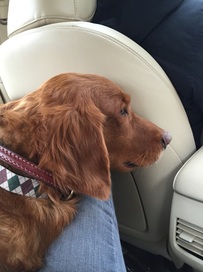 Day One:
Good call bringing help. She flattened out on the parking lot ground and wouldn't budge. Sweet talk, liver treats; not impressed. Plan B, we picked her up and pushed her into the car. She hasn't budged off my lap where she landed. Hopefully will have happier pictures to send soon. She is GORGEOUS!!!!

Day Two:
My dog, Rigby, is doing what I couldn't. She got her to get off her belly and she drank some water. Rigby helped her down the steps to get to the backyard. Finally, she's up and wagging her tail and tasting snow. On the up side, she will follow me outside and will come lay down near me if I sit on the floor. She let me snip off the matted fur behind her ears and brush her

Day Three:
Last night I got her to eat pieces of hot dog from my hand, then some chicken and stew including the carrots and potatoes. Not a lot, but she took it all from my hand. This morning I fed her a cup of dry food with some gravy while my husband was out walking our 2 dogs. She eventually ate some from the bowl when I was far enough away. I tried to let her sleep in my room last night with the others. Lots of approach and retreat; she finally slept in the doorway and didn't budge all night. Any movement still sends her into retreat, including my getting out of bed or putting on my coat, but she will follow me, and if I sit on the floor, she will come over.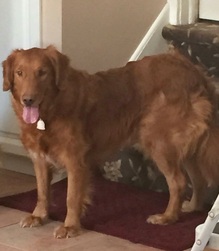 Day Four:
Still not eating much, but drinking and peeing and seems relatively OK. She had a few tail wags here and there. She is sleeping in my bedroom doorway. Maybe brave enough soon to come in. Just now letting my husband pet her head without running away. And so ends day 4......
Day Six:
She's eating a tiny bit of canned puppy food and a few pieces of kibble that get stuck to it. She even took a dog biscuit from me this morning. I am trying to only pet her when she approaches in a non-submissive manner, or I sit quietly and wait for her to come to me. She belly slinks over. She is still very stressed and submissive. She had a few second romp with Milo this morning, tail up! She likes Nylabones and pulled a branch out of the snow to chew. She watches me play with the others but is not taking toys yet. Almost showed some interest in a tennis ball, then stepped away.
This is as big a lesson in patience for me, as it is for her. Usual training methods are not going to work with her.
Day Eight:

My daughter, son, and daughter-in-law came over yesterday with the puppy. Wendy showed no interest in the puppy and simply turned her head. She let my kids pet her without running away, but movement sends her running, as does putting on my coat and hat. She only approaches me for petting if I'm on the floor. If I feed her while the others are out, she eats most of it (kibble and canned), in the morning, not so much in the evening. (
Did she only get fed and pottied once a day? It seems like that's all she expects.
) She looks like she wants to be part of the group snuggles, but still needs verbal reassurance that its ok to come over. She had a small playful moment digging up a snow ball in the yard this morning. I think she forgot for a split second to be scared. She won't come into our bedroom at night and still sleeps in the doorway or on the landing. I left a few Nylabones out, and in the privacy of nighttime, I heard her chewing on them. She won't touch anything while humans or the other dogs are around.
Her progress is so slow and I needed my husband to remind me of what she was like last week. Baby steps...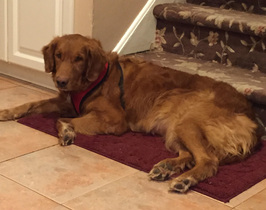 Day Ten:
She now officially likes canned food (yuck), and while I was out, my husband fed her a lamb chop. She ate it and is going to be spoiled by my husband while I try to get her back on kibble. He was suppose to keep her in the kitchen away from the other dogs when he left, but she was snuggled up with Rigby and he didn't want to ruin the moment (
awwwww
), so she had the run of the house with the others. Maybe that will be the best for her. The smaller mesh harness came today. It's a little small, but at least it doesn't slip off. I tried to take her out with the others on a leash, but she freaked out. Still to shy for food or toy bribes. I guess the front door is still too scary. I was able to take her out in the back and walk up and down on the leash. She wasn't happy about it, but she was up. Leash walking and going potty are still not connected. She has moments here and there where she has a short burst of play. Then she catches herself and stops.

(The above is a very beautiful photo of Wendy in so many ways. She looks relaxed and is not stress panting. Her ears are in normal position and her body language is at ea
se.)
Week Two
:

No real landmark progress here - baby steps. I almost had a cute picture of her snuggled up with the other 2 dogs, but trying to take the picture ruined the moment. My husband is learning to make himself smaller and approach Wendy from the side. Thankfully, she went over to him... slowly, but she went! That was good for both of them. I see a few short bursts of a romp with the others once in awhile. She now loves snow, especially freshly falling soft snow and snow balls she digs up and chews. Who knew, I wasted money on dog toys! (
Click to watch Wendy in the snow!
) She is still not a great eater and eats better in the morning (alone) than in the evening. She's learning about treats and likes sushi rice, cheese, meat and hot dogs, but she can't figure out why the other dogs like carrots, cucumbers, apples and bananas. She's a real meat and potato girl! I asked the other dogs to sit for their treat and to my surprise, Wendy sat too! Let's see if we can repeat that!
---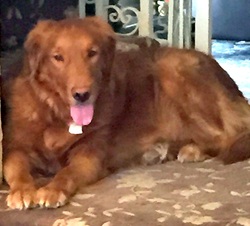 Week Three:

(We s

hare the update below with you to share the struggles of rehabilitating a dog who is the victim of being a puppy mill breeder.

One of the big differences between puppy mill dogs and typical pets is often their level of fear. Their fears can include everything a dog could be fearful of, with intensity ranging from a mild fear to being completely shut down and frozen with fear, unable to interact with anyone or anything.

It is believed this is because the dogs never received adequate socialization to humans as puppies. Progress continues for Wendy, but it is slow. There are glimpses of Wendy's inner spirit emerging, but there are days of one step forward and two steps back.)
Well, week 3 is not getting off to a great start. On the up side, she's eating and seems a bit more relaxed at times. On the down side, we had a rough day yesterday and today doesn't look better. After mopping the floors 3 times yesterday, despite doing her business outside with lots of gentle "
good girls
," I ended up crating her last night. I tried leash walking again in the backyard, thinking we could get to he point of outside better, but she flattened out like a pancake then slipped out of the snug mesh harness. I had to physically pick her up and put her in the crate, but she didn't complain once in. I took her out first thing, she peed, came in, ate, and back out to poop. We had a few minutes of quiet petting when she approached me on the floor. I went upstairs for 2 minutes to get dressed and came down to a puddle of pee. Is this the same dog that went the first days barely going at all and whimpered to go out?
Although we see progress from the start, something is unraveling this weekend. Can this be the eye of the storm? Other than "
no
" for witnessed poop eating and puddles, I have not punished her or yelled at her. I can't use food rewards, because she's not interested. I tried happy-sounding praise and she wags her tail low in response. She is clearly still very stressed and I'm not sure what to try next. I had planned to work on one thing at a time and will now leave leash walking for later.
Stuffed, soft, squeaky, chewy, hard, round toys, balls, or sticks; no interest. She watches the others play Frisbee, but runs away when I either gently show it to her or toss it away from her. Peanut butter not an enticement. I got a few licks of interest to the kong filled with roasted chicken, but when it rolled, she walked away. Running, playing, fun, toys... she is just watching the others for now. I'm trying to look at the whole picture and see if there is something I can change that she finds stressful, but other than life itself, I'm hitting a brick wall. Is she more fearful now that things changed and she's safe, fed and loved?
Three & a Half Weeks:
Things are getting better! Two day,s no accidents! Further on the upside, Wendy greets me with a happy tail wag in the morning and loves the snow. (
Click for a snow video!
) There were a few romps in the snow with the others, but but Wendy isn't sure about Milo's intentions yet. She got interested in a nylabone edible chew last night, which I let her have for a bit, but experience with others taught me that too much makes for lots of poops. Can't have that so, let her have only a little. On the whole, I think she looks happier. Still skittish, but for her, better.
(YEAH for Wendy!!)


Week Four:

On the whole, things are getting better. She sleeps through the night and when the house is quiet, she can calmly find a spot to snooze. Breakfast is her better meal. She eats most of her food and this morning she got into Rigby's too. I am getting used to the skittish nervous behavior, which is actually improving!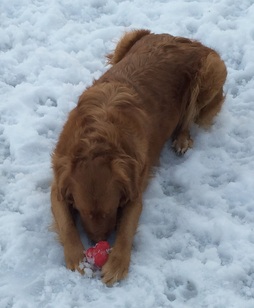 Week 4.5:
Wendy actually played like a real dog with a square Kong ball! I keep them as a special outdoor only toy. My dogs go nuts for it. They will keep retrieving it until someone (me) can't throw it anymore. Wendy didn't run after it like the others, but eventually, after I rolled it to her, she pounced on it, tossed it in the air, buried it, chewed it! The play didn't last long, but her rump was up in the air in a play pose for a few heartwarming minutes. (Much like a baby's smile, watching her play erased a lot of frustration.)
Wendy has taken a liking to my daughter. When the other dogs greeted her during her recent visit, Wendy came over to see and when they were on the floor in a tangle of hugs and sloppy kisses, she was very interested in the show.
(Wendy's interest in the kisses and hugs when Nancy's daughter came home - all signs of picking up on Rigby's and Milo's behavior and saying, "oh... that is what dogs do...!" We believe we see forward movement here!!! Reading the details of Wendy's interest and play with the kong, we'd say this is REMARKABLE progress!! This girl is finding her inner dog and her happiness is emerging!! We're curious to find out who is really in there and we believe the girl inside is sweet and fun. We can't wait to meet her!!)
Week 5.5:
Although I don't think Wendy has bonded to me yet, and still goes skittering away if I move in her direction, she does come over to me for petting, and doesn't run away if I'm in the floor with her. I watched her break into a playful romp with Rigby that lasted most of the length of the yard. Not sustained, but it was something. She lost interest in the kong, but mouthed a ball. Her tail has been up a bit more. She sat with the others for a treat this morning. Still a painfully slow process, and I know as I write this, there will probably be a few steps back soon, but I'm seeing glimpses of a real dog here and there. :-)
Week 7:
Wendy is doing really well this week! I am finally seeing her starting to relax. She now greets me in the morning and when I get home from work with a happy tail wag. She allows me in her space and joins the other dogs for petting, hugs and treats. She is still very shy about food and treats, but getting her to take them from my hand has been a huge step. Meat and hot dogs are her favorites, but she is learning that cheese, bananas and a few licks of yogurt or ice cream aren't too bad. My dogs aren't picky about flavor, but she apparently is a vanilla girl! Unlike mine, she takes a few gently, then walks away. She is starting to learn sit for treats, but wasn't impressed with "paw". I think she decided the treat wasn't worth that foolishness. (haha)
She's still not sure about toys, but finally will play with a square kong ball for a few minutes. She looks like she forgets herself and enjoyed chewing on it. She loses interest easily, but that was also a giant step. This past week I swear she was flirting with Milo, my 10 yr old male, and another day initiated a full yard romp with Rigby - check out
this video
!!! These bursts are fleeting, but I think she turning a corner. She still runs away at any sudden movement, noise or change, and needs encouragement to come back in through the back door. Although all my other dogs especially fosters have been crated, I do not crate her routinely. She has defined space that she will not soil. With that said, if a bathroom or kitchen door is left open, she will pee and poop on the floor.
Wendy has
made some progress with leash walking as you can see in
this little video
. I had an idea that if I had all 3 on a leash (with hot dog treats) she would get the idea. Looks promising right? It was slow but she was up and moving!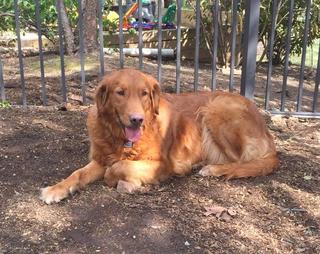 Update Week 8:
She had a great day yesterday. After work, my husband and I were sitting in the living room and she and Rigby had a good, long "roll around" play! Milo wanted in too. She has had a few spurts of play, but yesterday was the first sustained tail wagging, real dog play. Then this morning she chased a rabbit along the fence in the back yard!
Update Week 9:
She's up and walking on a leash, not happy, but up and walking on a slip lead. I had a hard time getting her to go out the front door or even the driveway side gait, but she went out thru the other side. She will move forward as long as she is behind Rigby and so far she also needs to be behind my husband. I needed Rigby's help to get her back in the front door! She still hasn't linked walks with potty, but at least she's walking.
She is just starting to turn a corner. Last night was the first time she didn't run away from my dad when he wanted to pet her. Before she ran upstairs when anyone came over to visit. Now, she wants to be in the kitchen at a safe distance, and let him gently pet her.
Update Week 13:
We seem to be at a plateau. She walks on leash, but still runs away and cowers when she sees the leash. Although she walks nicely once out, she refuses to potty on leash and waits to go to her spot in the back yard. She does, however, like to chase the birds on our walks! She got over her fear of the front steps into the house, but flattens into her pancake at the outer 3 steps, made of the same concrete, so she walks around them. We have gotten into a reasonable routine. She greets me happily in the morning or when I come home from work, but looks panicked if I reach to pet her. At other times, she comes over and relaxes into the petting. She is still not food motivated and can take meals or leave them. If I sit quietly at the kitchen table with no one else in the room, she eats. Any more than that, she avoids the bowl.
(Wendy
has really made incredible progress in the care of her foster family. We can only imagine that it seems painfully slow... but think of the girl who looked more like a furry red pancake than a dog. Now, she walks on a leash and plays with other dogs. We'd say that's pretty good!! Be sure to check out her new video!
)
Week 15 Update:
Wendy has been with us for 15 weeks, and although she has made progress, I feel we are at a plateau, even backsliding at times. While I know this is a very long process,and I don't expect her to progress on the same time line as other dogs, I would so like to help her along. It's so painful to see her so flat. I keep whispering in her ear
run, play, have fun, be a Golden, you're safe and loved here
...but she still doesn't fully believe it. Still very shy and anxious, but if the other dogs and my husband leave the kitchen and I sit quietly at the table, she will approach her bowl. She will never finish her food. She takes a bite, does a few laps around the kitchen then returns to the bowl. It's a slow process and despite one of my older dogs being all to happy to help her finish, she passively walks away. (In the dog-eat-dog world, she would be eaten).
She will gingerly take meat or other high value treats from me, but if startled or stressed (which is much of the time), Wendy will turn away from treats. Initially, she took a bit of interest in a Nylabone or Kong, but mostly lets it roll past her or runs away from it. The only thing I noticed gets her tail wagging and ears up (like a real dog!) is a bird, squirrel or rabbit in motion. I have yet to hear her bark, on a VERY rare occasion, perhaps a whimper or short quiet sound. Mostly she looks at me with her beautiful sad eyes. In the morning and when I come home from work, she greets me with a happy tail wag, and slowly approaches to be pet, but if I make any sudden move, she retreats. She tolerates me clipping her nails and brushing her. The outside bath put her into her flat pancake position, and despite the mud she was then in, feels much, much better clean! Having the other dogs in the house is very helpful. She follows my female Golden's lead (except to play) and may have had a small crush on my 10 yr old male, but his play style is pretty rough (he play bites her on her rump to get her up to play) which doesn't go over big with her. My female ends up getting in between them and distracts him to play with her instead. We are puppy sitting my son's 4 month old mini golden doodle who would like to play with her, but she shows no interest to her or other dogs on our walks.
On the up side, she goes up and down stairs, doesn't slide on the kitchen floor, will slowly go through most doorways. When she walks on a leash, her gait is soft and stunning!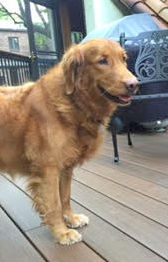 Week 22 Update:
Her progress is still slow, but getting better. Mornings are my favorite. She greets me happily when I wake up and now comes to the front door with the others for her leash. Once she even peed on the walk. Yippee!! With a quiet kitchen and precise routine, she eats her meals and a few healthy snacks. I'm so happy she eats bananas, carrots, blueberries and watermelon. A little fish, chicken or meat also helps the kibble go down! I tried a whole new batch of toys, none got any notice (but Rigby thought she won the lottery). She loves to stalk birds and moving critters. If I could only keep them inside the fence to play with her!

It breaks my heart when she retreats or cowers at a sudden movement. She passively lets me groom her and is not thrilled with bath, brushing, nail clipping and tooth brushing, but doesn't object. Her lower front teeth are worn down - I wonder if she chewed on a crate or cage? I also wonder if she was beaten or restrained with a leash or strap. The way she looks at the leash if it slips from my hand is spooky. She remains wary of men and still watches and waits for my husband to leave the kitchen before she eats. There is so much I will never know about her past. It's so different than the other rescue dogs who were younger and not as damaged. The recent thunderstorm unnerved her, but July 4th went unnoticed. Usually we take the dogs to watch the fireworks (from a parking lot far away) but passed on taking them this year. Didn't think Wendy was ready for it, but oddly enough, the noise from fireworks didn't seem to bother her.

Still patiently waiting for the inner golden to emerge....starting to see little tiny seconds here and there...I'm anxiously awaiting her morphing into a happy, healthy, fun loving Golden.

Week 30 - 8/16/15
I looked into 2 behaviorists, but backed away because I didn't think they had experienced a breeder dog like Wendy. The most helpful reading has been the book recommended by DVGRR. It not only captures the dog's experience, but also mine, as the foster. Apparently my reluctance to chance having her bounce back is not unique.

I decided to back up and start very simple tasks again. I love when she alerts to a critter on our walk because I can see her brain working. While the agility course I set up is not exactly competition grade, getting her to go through the poles is a big step. I bought some interactive toys to challenge her. One of the toys has multiple cups that fit into circles. The other dogs had no trouble figuring out where the hidden treat was. For Wendy, I only gave her one. She saw the hot dog go under it. After a few days of trying, today she nudged it over and got the treat. VICTORY!!!

We will be driving to Outer Banks, NC soon with our girls (human and canine). I hope the car ride and new surroundings don't set her back too much. I'm mostly concerned about her potty habits. No matter how long we walk, she will only go off leash in our back yard.Hopefully I will have some wet swimming dog pictures to post soon.

August 25, 2015 - Officially Adopted!

Since we have now officially adopter her, we are calling her Callie. She now gets in and out of the Surburban all by herself and had her first swimming lesson! She was not too sure what happens after that first step into the pool. Her first attempt was from the deep end. Oops! Rigby is doing her best to show her the steps in and out, but she'll figure it out.

Day one at the beach and she cozied up to a MAN who was missing his Golden. (I think she's a big faker)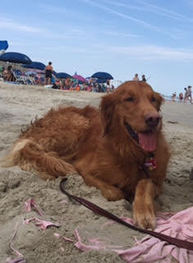 August 27, 20015

Prepare for lots of adoptions coming your way. It turns out that Callie is a walking advertisement for adoption. I don't know who is getting more out of this vacation - us or the dogs. Everywhere we walk, people of all ages approach and go straight for Callie. She's learning that people come in peace, but because it's apparent that she's much more reserved than the other two (who try to hog the attention), we tell her story. One woman took down the SGRR website to adopt a companion for her golden. I cannot believe how many children and adults she's let pet her!
Update 10/4/2015

Callie is slowly progressing. Still not playing a lot, but better at approaching visitors for a shy petting. We are puppy sitting my son-s mini golden doodle. My neighbor adopted her half brother. They met in my backyard for the first time today. Best furry romp ever!


While the young ones were wrestling, I looked back and saw Callie and Rigby sharing a stick. It escalated into a growling, biting, and possessive rumble, and to my surprise, Callie stood her ground and rumbled back. While I do not advocate dog fighting, they quickly worked it out without human intervention. Rigby backed down and I am extremely proud of Callie for her bold response!
Update 11/30/2015

What seem so natural to the other dogs is still new to Callie, but she follows the others like a trooper. We had a great Thanksgiving weekend. All the kids, lots of dogs, and outdoor activities. Not too keen on jogging, but she keeps up, and today she did great on our hike. Last time she froze at the logs, but today she went over it. She got stuck on her first attempt, sort of a belly crawl over, but 8 miles later, she got the hang of it. Good ( and tired) trail dog.
She is happily exhausted and snoring right next to me.
Update 1/6/2016

Callie (AKA Wendy), is coming along. She is enjoying a little alone time with me and the other dogs while my husband and his big clunky footsteps are away. She had her first non-emergent vet check up visit last night. I brought Rigby along for her checkup as well, and as predicted, she followed Rigby in. Callie even took treats and nuzzled with the vet. Much better than last time when they had to bring out the gurney to scrape "pancake Wendy" off the parking lot asphalt. Milo's technique of biting her rear to get her to chase is still not winning her love, but I know she has a crush on him. She lets him into her food bowl!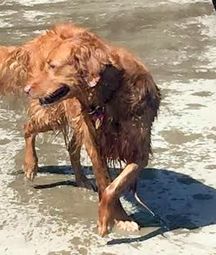 Update 4/26/16
Callie
is still shy and winces at sudden movements, but with a house full of company of all ages this weekend, she wanted in on all the action. She approached guests for petting and was fascinated (and quite puzzled) by a human
infant
!



Update 7/13/16
Callie may not love hiking, but she is a good sport. We couldn't image what had her intense attention in the water and thought she was tracking a fish. That was until she bounded through the water, onto a log and out, chasing a dragonfly. She's still shy and reserved, except at the dinner table. She finally figured out food is yummy. I get a nose poke when she wants attention, but takes no politely.